14-stone (including the earrings) Navajo lariat-style pendant necklace set with boulder (ribbon) turquoise, Gilbert Tom.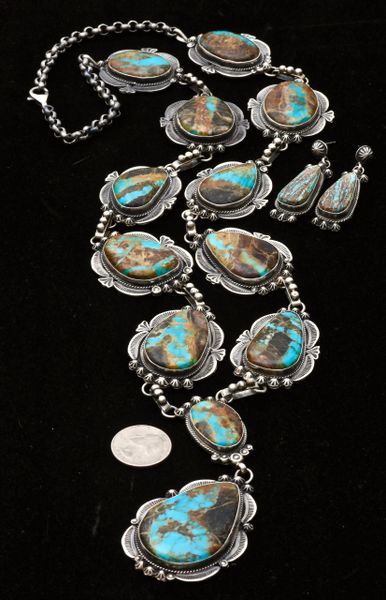 Description
Note: This item is currently on loan to COWBOYS & INDIANS magazine for use in its photo shoot for the Fall Fashion Issue coming out in September, therefore shipping will be delayed until early August. 
This baby is 35-inches end-to-end (hangs about 20-inches from the back of the neck due to the lower-hanging pendant).  It is an outstanding piece of Navajo art.  The Drifter hand-picked the stones weeks before Gilbert started creating it.  The Sterling links between each pendant are eye-catching and the stamping of the Sterling is crisp.  Earrings are included.  Hallmarked "Gilbert Tom."