On the road now; new finds will post this fall!
Custom-made Navajo Sterling cuff with hand-picked White Buffalo and Royston turquoise, by Gilbert Tom.—SOLD!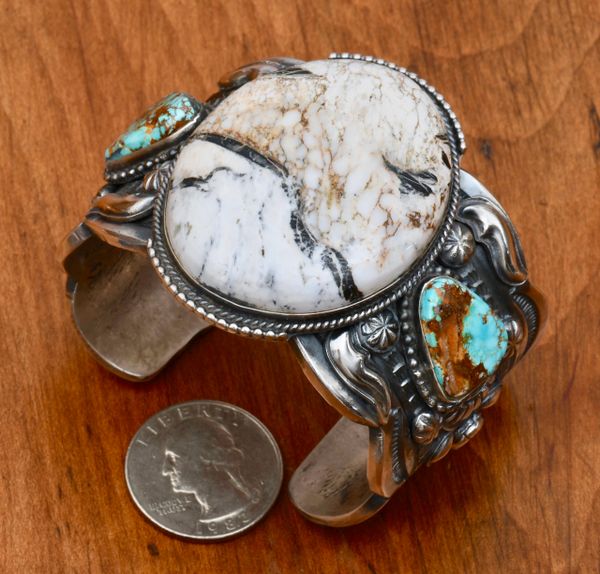 Description
SOLD!  This is another of example of the continuing collaboration between the Drifter and Navajo master silversmith Gilbert Tom.  The Drifter selects the stones and the thick, wide Sterling, and asks Mr. Tom to scallop the edges.  The rest is Mr. Tom's creative magic. The center piece of White Buffalo was very, very expensive, and the 12-gauge 3/4-inch width Sterling silver isn't cheap either.  This cuff should be priced over a thousand dollars!  COWBOYS & INDIANS magazine borrowed this piece from the Drifter for use in the current "Spring Fashion issue" (April '19, featuring Woody Harrelson on the cover), where it appears on the model's wrist on the first page of the Spring Fashion section, pg. 106.  The magazine incorrectly identifies two stones on either side as Dry Creek turquoise.  It is actually No. 8 Mine turquoise with nice copper matrix.  This cuff requires a fairly small wrist circumference (including the "gap") of 6.25-inches.  It can be adjusted only slightly because of the thick silver.  Weight is 6.65-ounces!  Its a substantial piece.  Hallmarked, "Gilbert Tom."   Note:  In the waning days of 2018 Mr. Tom suffered a fall and had to be airlifted to an Albuquerque hospital.  We pray for his full recovery.