We're on pg. 42 of "COWBOYS & INDIANS" this month.
Custom-made Sterling Navajo cuff with eleven aqua-blue natural Kingman turquoise stones by Gilbert Tom.—SOLD!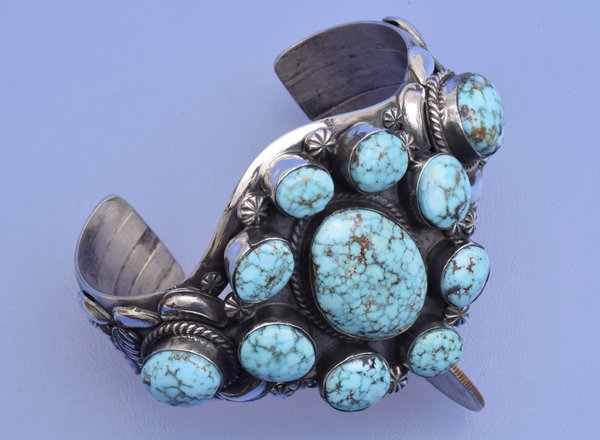 Description
SOLD! This is one of the better bargains on the High Plains Jewelry website. The Drifter painstakingly hand-picked all eleven stones here. It took a while to find and carefully match the aqua-blue natural Kingman, Arizona turquoise stones, and they were costly to acquire. The Drifter got with with Navajo master silversmith Gilbert Tom and sketched-out a basic layout for the shape of the piece and the layout of the stones. Then there was the wait time while Mr. Tom worked on it. We hope you like it because it would be costly to replicate, and difficult to acquire these matching primo natural Kingman turquoise stones again. Additionally, it is adorned with 20 small pieces of Sterling repousse'. It truly needs to be priced higher. With that said, the weight of this trophy is a very respectable 3.35-ounces and the wrist circumference (including the "gap" in the cuff) is 6 and 5/8th's—which is a solid lady's medium wrist size. It is 1 and 7/8th's-inch across the top, and the shank part that wraps around the wrist is one inch. It is hallmarked, "Gilbert Tom." Ladies and gentlemen, this is what 'quality' looks and feels like.