On the road now; new finds will post this fall!
Custom-made Sterling triplet cuff with White Buffalo and No. 8 turquoise by Gilbert Tom, Navajo. Sold, but just received more.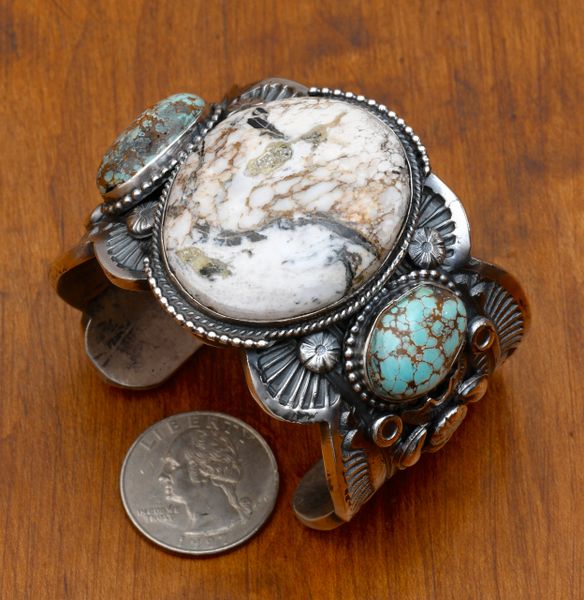 Description
Sold, but just received two more like it—call for photos.  This stunningly beautiful and very substantial cuff is custom-made for a small wrist.  Gilbert Tom made a series of these, with varying stones and widths, for the Drifter.  The Drifter picked-out the stones and specified the thickness and width, and Mr. Tom performed his magic.  Both the large White Buffalo stone and the two No. 8 turquoise stones are exquisite and expensive.  Mr. Tom's hand-stamping is immaculate as usual. Wrist circumference is almost six-inches; width of the cuff across the stone is 1.75-inches, and it weighs 5.75-ounces.  This, again, is how quality looks and feels.  Hallmarked "Gilbert Tom."   Note:  In the waning days of 2018 Mr. Tom suffered a fall and had to be airlifted to an Albuquerque hospital.  We pray for his full recovery.