Latest Offerings Appear First
Dead-pawn Navajo "first phase"-styled concho belt with Sterling conchos and reposse', by Geraldine Yazzie.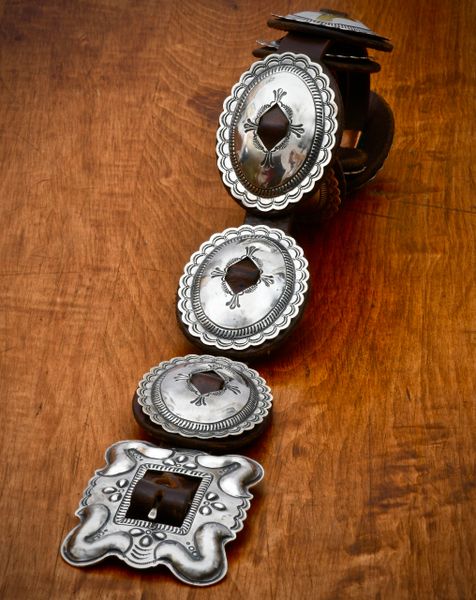 Description
Concho belts are designated by periods of time when makers were evolving the art.  "First Phase" represents the late 1860's to around 1880, when concho belt makers began making beautiful silver creations instead of deriving the conchos from ornaments worn on horses.  First phase conchos have a distinct diamond cutout in the center of the concho whereby the leather is visible as it is laced over a small bar underneath the diamond-shaped cutout.  It is how the silver concho is attached to the leather.  "Second-phase" started in the 1880's, and involved the use of metal strips (usually copper) soldiered onto the back of the concho, forming a "loop" by which to pass the leather through in order to attach the back of the silver concho to the leather belt.  First phase represents the most classic form of the Native concho belt.  Geraldine Yazzie is known for top-notch concho belts in the classic "first-phase" style which also utilize second-phase copper strips attached to the back of each concho where the leather passes through.  She is also known for some of the best repousse' work in the business.  The buckle on this belt has very, very exquisite repousse' reverse stamping on each corner, and a few smaller areas of repousse' elsewhere.  Also, she included thick leather backing on each concho.  Don't even think about wearing a concho belt on a consistent basis without leather backed conchos.  You might as well strip the upholstery off your automobile seat and sit on the metal springs.  You want a belt that's both beautiful and comfortable to wear.  Lastly, a concho belt should have good gauge solid Sterling silver conchos.  It's not worth a nickel if its not solid Sterling silver, IMHO.  Silver plated or nickel silver concho belts are just big pieces of costume jewelry.   This jewel weighs over a pound and-a-half.  We don't buy thin, light stuff.  Each of the eight oval conchos cover a lot of real estate--measuring 3 and 3/8th's-inches wide, and 2 and 5/8th's-inches tall.  Pretty big.  The buckle is 3 and 7/8th's-inches wide, and three-inches tall.  It has a rectangular opening in the center where the leather is, again, visible.  This is a serious, well-made Sterling silver concho belt with thick leather everywhere.  Not for the shy.  And, it is made by a renowned concho belt artisan.  You're not likely to find a Geraldine Yazzie first-phase belt for less than two or three grand elsewhere.  Enjoy.