On the road now; new finds will post this fall!
Dead-pawn Navajo Sterling bolo tie with custom tips and 15 Sleeping Beauty turquoise stones, by "W. Nez"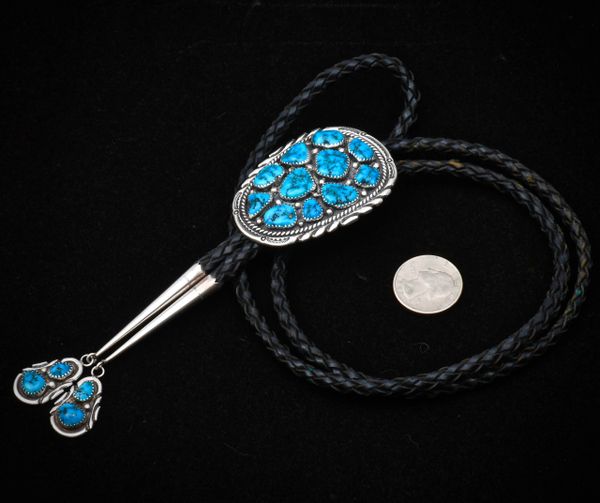 Description
Real, quality Navajo bolo ties have been marginalized by all the cheap plated things you see in western wear shops, or the mass-produced, thin-silver tourist trappings you see in curious shops.  They look silly and transmit that look onto the wearer.  You simply are not going to find a serious bolo tie that bespeaks of quality for less than about $400.  Really more than that if you want something really good.  Here is one the Drifter bought out of a pawn vault for a good price—a really good price.  You can tell a Dine' person made it for personal wear by those nice custom tips that are like two small pendants.  Of course the lanyard is real leather—unlike those tourist trinkets where the lanyard is made out of leather-looking vinyl.   Twist the lanyard and get down real close and sniff it where it was twisted.  Leather smells like leather; vinyl smells like vinyl.  Length end-to-end is 40-inches, which means it will hang 17 or 18 inches down from the back of the neck.  Oh, and did we mention those pristine Sleeping Beauty turquoise stones?  Hallmarked "WNEZ."