We're back! Now posting "Latest Acquisitions"
Dead-pawn Navajo Sterling squash-blossom necklace with 19 Sleeping Beauty turquoise stones, by Harry Spencer.—SOLD!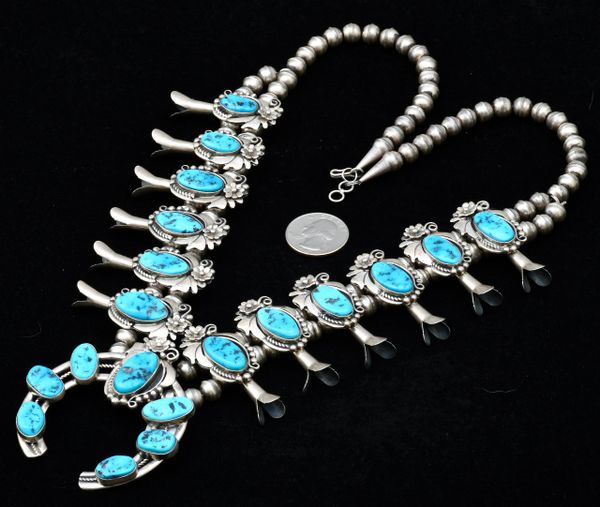 Description
SOLD!  This was purchased out of a pawn vault.  It had a price sticker of $2,000 (but the Drifter usually gets a little better deal).  It's a helluva nice squash blossom, with perfect blossoms that aren't scratched or bent, and are opened-up wide.  Hallmarked, "H. Spencer."  It has good weight and lots of fine detail in the silver work.  The Sleeping Beauty stones are without cracks or imperfections.  It hangs approximately 15-inches from the back of the neck to the bottom of the naja, which is a bit shorter that the modern-day lavish squash blossoms that hang almost to the belt line.   This was once proudly worn by a Navajo—we kinda prefer it that way instead of it being made as a tourist item.