Latest Offerings Appear First
Dead-pawn Sterling silver Thick-gauge Sterling silver Navajo cuff with three Sleeping Beauty turquoise stones.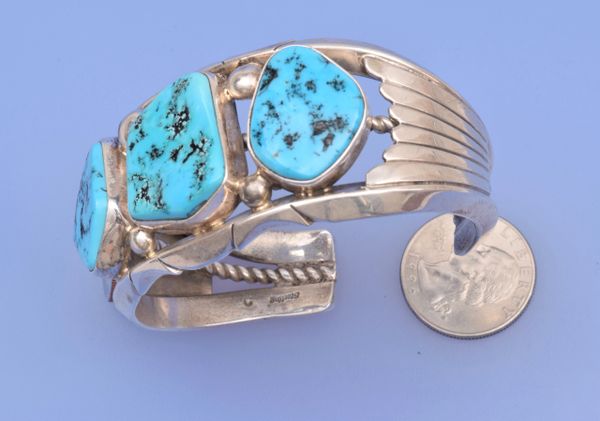 Description
 Wish we had a couple a' dozen of these!  This was a simple, inexpensive triplet cuff in its day—like early fastback Mustangs.  But like that classic '67 fastback, prices have gone way up for a cherry one.  And this cuff is cherry.  No dings, bends or cracks in the stones, and with very thick-gauge Sterling silver.  Hallmarked "C."  Wrist circumference (measurement including the "gap") is 6-and-5/8ths-inch (which is a smaller man's or a medium/large woman's); width tapers from 1-and-3/8ths at the top and it weighs 3.25-ounces.  Plus, it doesn't require buying fuel to enjoy it.