On the road now; new finds will post this fall!
Eight-stone Sterling Navajo naja with boulder (ribbon) turquoise, by Mary Ann Spencer.—SOLD!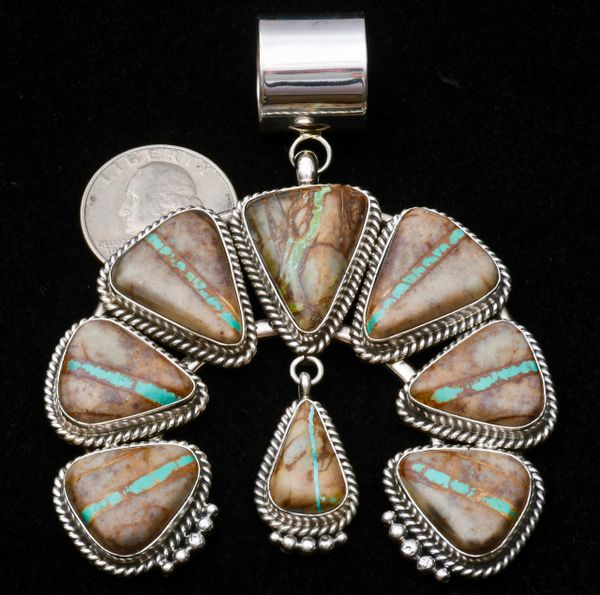 Description
SOLD!  A "naja" is what some people refer to as the horseshoe at the terminus of a squash blossom necklace.  Naja means "crescent" in the Dine' (Navajo) language.  Some say it mimics a design on the center piece of the bridles on horses the Spanish rode into the Native American territories in the Southwest area of North America in the 1500's.  Another, more esoteric, explanation is the crescent-shaped semi-circle—which normally hangs immediately over one's center core—serves to form a barrier against evil entering the person wearing it.  The small gap opening at the bottom then allows goodness to enter up and into one's inner being.  One thing's for sure—this is one elegant naja!  With its eight stones—each with a distinct ribbon of turquoise coursing through, it is a magnet for attention and admiration (see 3rd pic to see why ribbon turquoise is difficult to ferret-out, and why it is more expensive).  And, this baby is certainly a bargain.  The price includes an 18-inch solid Sterling silver chain that ships with the naja.  Or, you can substitute a nice 24-inch, 8mm solid Sterling set of burnished "Navajo Pearls" instead for $624 (when sold as a "set").  A picture of the beaded necklace to which we refer is posted separately ($199 when sold separate).  Length of this naja itself is 2 and 3/8th's inches (not counting the bale), and width is almost three inches.  Hallmarked "M. Spencer."