Latest Offerings Appear First
Vintage, signed (in older Gothic hallmark) Tommy Singer gold and silver squash-blossom-type necklace.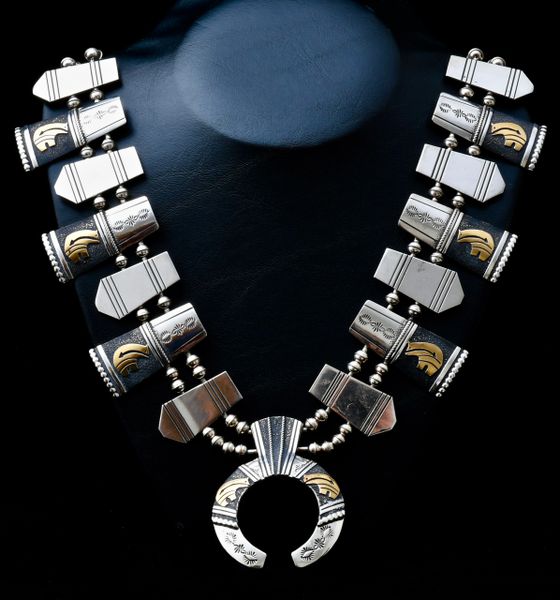 Description
The Drifter tried for many years to acquire this older, original Tommy Singer piece, and finally did so prior to Mr. Singer's passing to the other side.  It's a magnificent, pristine example of what made Tommy Singer so famous.  It has generous gold-fill healing bears throughout, and is hallmarked in his older Gothic font with the letters spaced farther apart than even his slightly later Gothic font stamp—and much older than his later cursive print hallmark.  The Drifter's Tommy Singer belt buckle that he acquired in the early seventies also has Gothic font similar to that here.  Mr. Singer was a legend a half-century ago, and he is still.  This neckpiece is big and boisterous and parlays a certain air of accomplishment when worn.  It might overwhelm some.  And, it looks equally well on a man.  It is 34-inches end-to-end—which does not take into account the naja.  It should hang approximately 18-to-19-inches from the back of one's neck.  Weight is 251-grams, or 8.86-ounces.  Other pics below are of Tommy Singer—some in his home near the hogan in which he was born.  We are in no hurry to part with it, but if, indeed, someone purchases it there is free Priority shipping within the U.S.