We're on pg. 31 of "COWBOYS & INDIANS" this month.
Exquisite cluster pendant with 40 Sleeping Beauty turquoise stones by E. Wilson, Navajo.—SOLD!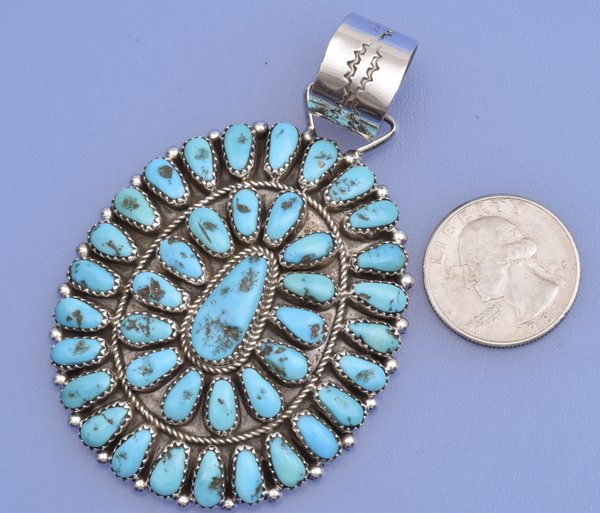 Description
SOLD! Whoa! Compare these stones to those pressed "block" settings that are so prolific elsewhere. Big difference, huh? The pressed-block 'turquoise' is actually shavings, chips and dust created when cutting-down the real turquoise stones. These particles are then put through a machine that further pulverizes them; a resin 'binder' is then introduced and the mixture is compressed into a block about the size of a bar of soap. We're embarrassed for the people who unknowingly buy these and think they have the real thing. Anyway, this piece ships with an 18-inch solid Sterling silver chain. Weight without the chain is 1.15-ounces and the dimensions (not counting the bale) are 2.25 by 2.0 inches. Be proud of what you wear.