We're on pg. 42 of "COWBOYS & INDIANS" this month.
Man's dead-pawn Navajo Sterling cuff with thirteen squared Sleeping Beauty turquoise stones.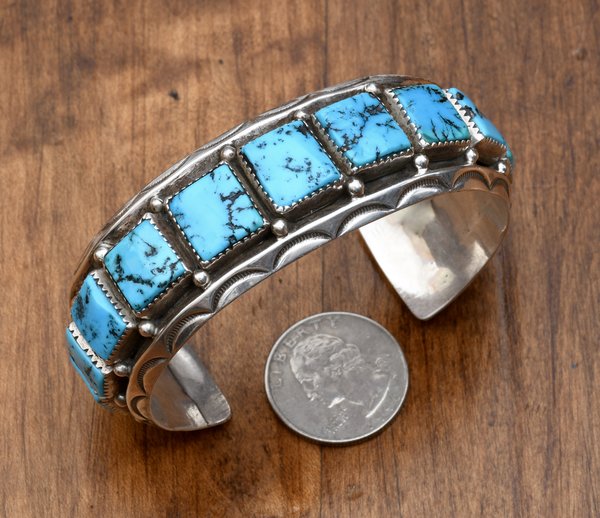 Description
Whoa, this piece really looks good on the Drifter. Just his size! At seven and 3/8th's-inch wrist circumference (including the "gap" in the cuff), it technically can fit either a medium man's or a large woman's wrist size. However, it's the quintessential Navajo cuff for a male rock star—or an Indian Trader. It was really tarnished right out of the pawn vault but with a little TLC it came right back to life. Those aging squared stones from the closed (in 2012) Sleeping Beauty mine are set well into the settings and really give it that extra touch. It weighs 2.55-ounces and is one inch wide throughout. Hallmarked "B" with a downward arrow beside the letter. It's a good buy for a wise collector. Meanwhile, the Drifter will keep it warm.