We're back! Now posting "Latest Acquisitions"
Massive Navajo dead-pawn six-pendant Sterling necklace and matching earrings with No. 8 Mine turquoise.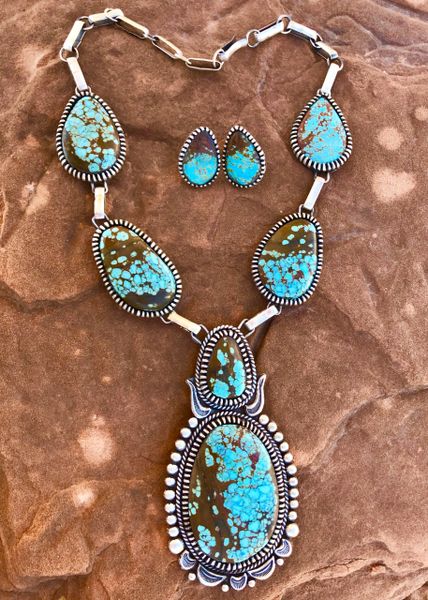 Description
Ho-ho-ho.  Santa has arrived with some serious stuff!  This piece was loaned-out for a magazine photo shoot before I had a chance to measure it first.  But one can gauge the size with the quarter coin in the foreground.  It has a long, hand-made chain that can be hooked to any link to make it shorter or longer. The teardrop earrings match perfectly. Will post the measurements and weight shortly.  Suffice to say, the silverwork and the No. 8 Mine turquoise are both amazing.  Museum quality.  It is hallmarked, and you are welcome to call or further information.  Always free Priority shipping within the U.S.