Latest Offerings Appear First
Navajo adjustable Sterling silver hat band with 87 Kingman, Arizona real (not "block") turquoise, OR, WHITE BUFFALO oval stones, by James Freeland.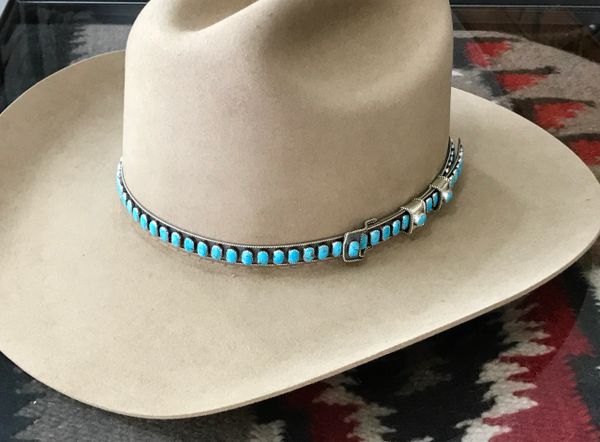 Description
NOTE:  Pictured is band with oval stone.  Have just acquired new ones with rectangular Kingman, or there is one left in oval White Buffalo stones! ONE OF THE KINGMAN TURQUOISE, AND ONE WITH THE WHITE BUFFALO RECTANGULAR STONES HAVE SOLD.  AS OF 10/1/'19, THERE IS ONE KINGMAN WITH RECTANGULAR STONES LEFT, AND THERE IS ONE WHITE BUFFALO WITH OVAL STONES LEFT.
These can be viewed by going to Facebook/High Plains Jewelry, and scroll down the photos to the photo with the hatbands in a red sandstone rock.  Realize that Navajo Sterling and turquoise hatbands have been around for a long time, but now most are ringed with "block" or compressed, processed stones derived from a blend of turquoise powder and turquoise chips that have been pulverized by a machine that adds a binding agent and compresses the powder into a block.  Even so, those hatbands require a lot of work and still cost $300 to $500 or more.  But all hatbands offered by the Drifter contain actual turquoise stones.  Here, they are beautiful Kingman, Arizona turquoise stones.  Sometimes they have rectangular stones; the other times they have oval stones.  And sometimes they have greener, Royston, Nevada turquoise.  The Drifter comes across very few of these silver and turquoise hatbands with the real, instead, of processed "block" stones.  When he does, he pays the price and snares it quickly to put it on this website, and, generally sells these James Freeland pieces for a little less than you might find elsewhere.  Hallmarked "TJF."  **Note:**  The Drifter's Stetson is NOT included in this offering—only the gorgeous hatband!