We're on pg. 31 of "COWBOYS & INDIANS" this month.
Sterling silver cuff with Royston turquoise by award-winning Navajo silversmith Vernon Hoskie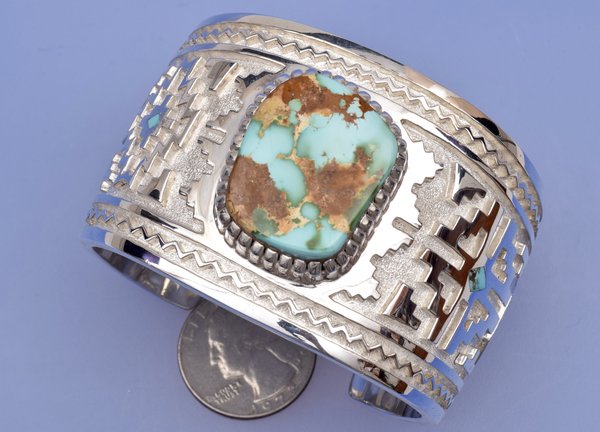 Description
If you've go the money, we've got the prime. This is today's top-of-the-line Navajo jewelry by award-winning silversmith Vernon Hoskie. None of that thin, gimpy-looking stuff here. This takes a long time to create. It is one of the four pieces that the Drifter furnished to "Cowboys & Indians" magazine for use in its annual Spring Fashion edition, March, 2016. Weighing-in at 6.07 ounces, it definitely passes the "feel" test. It fits a lucky someone's medium-to-large wrist at 6.75 inches, and is two inches across at the widest point. Topping-off all this wonderful, creative silverwork is a Royston Nevada turquoise stone. Now if this would fit the Drifter, it would definitely stay here.
Gotta wear shades.