Latest Offerings Appear First
Intricate Navajo dead-pawn squash blossom necklace with amazing silver-smithing and 25 pristine Sleeping Beauty Mine turquoise stones.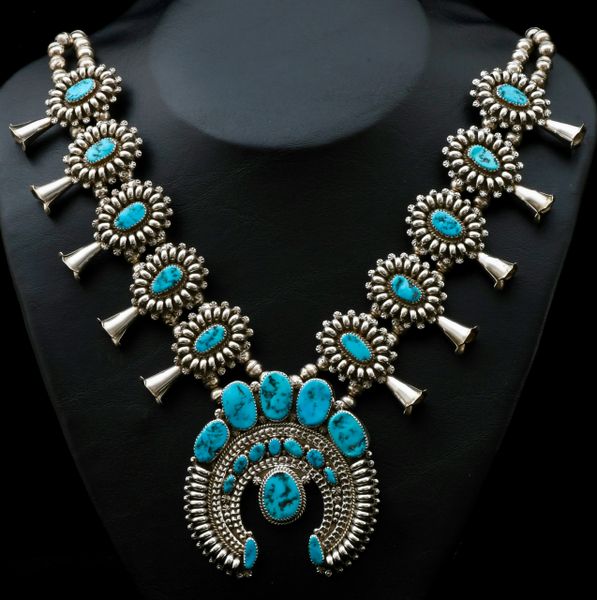 Description
In a room full of squash blossom necklaces, this authentic dead-pawn beauty will always stand-out—both for the 25-pieces of older prime Sleeping Beauty turquoise, AND for the highly-detailed and very intricate silversmithing.  Trendy squash blossom necklaces now are long on length and short on detail and craftsmanship.  They are somewhat unwieldy and cumbersome and bear little resemblance to the extensive history of the Native American squash blossom necklace.  Those behemoths are being made to make a splash on Instagram, IMHO, or for use as an anchor for one's boat.  Either way, this trophy squash is quite the opposite.  It is very traditional and obviously was very time-consuming and expensive to make.  The detail in the silver-stamping is nothing short of amazing.   End-to-end length is 27.5-inches (which means it will fall to around 14-to 15-inches from the back of the neck), but that length does not incorporate that stunning 3.25-inch naja.  Weight is an impressive 223.6-grams, or 7.88-ounces.  It is hallmarked with an interesting "NT" stamp on the two bottom blossoms, somewhat obscured behind the beads.  Absolutely stunning and priced below market.  'Nuf said. Always complimentary Priority shipping within the U.S.