On the road now; new finds will post this fall!
Navajo dead-pawn, thick-gauge, leather-backed sterling concho belt with alternating butterfly conchos.—SOLD!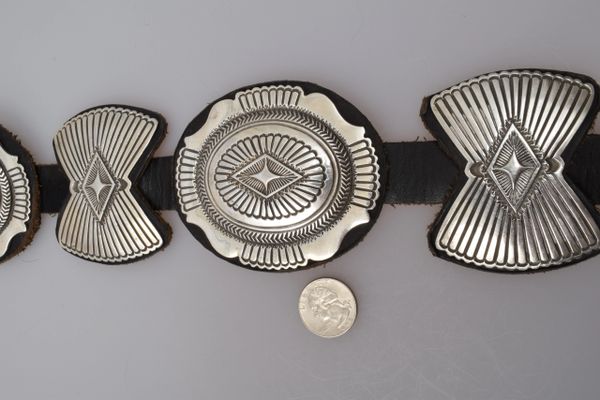 Description
SOLD (to a very wise client in France!)!   Very nice, very thick gauge sterling, and each of the twelve (counting buckle) conchos has thick leather backing—something the seasoned concho belt wearer learns to appreciate (keeps the silver conchos from digging into one's back when seated).  And, the leather belt itself is thick as well.  This older pawn piece is actually a bargain at this price.  Because of the thickness of the sterling and the leather, this is a serious, heavy concho belt.  But then, if it were were thin and lightweight you wouldn't be seeing it here.  It is NOT one of those thin-leather, thin-gauged silver, tourist-quality belts. This was made and worn by a person that knew quality and and had the skill to produce it.  This is a premium concho belt that will fit up to a 40" waist, or you can slide the conchos closer together or off altogether for a slim waist.  Hallmarked "LM."   Will add some close-up photos of the conchos with a coin for reference.   Concho belts went way up in price when silver ceased being four dollars an once.  You will find less substantial concho belts, of less quality, priced in the $3,000 to $5000 range.  There are some places where this would a $7,500 piece.   The Drifter likes to wear it when he's stylin'.