On the road now; new finds will post this fall!
Navajo Sterling cluster cuff with eight Royston, Nevada turquoise stones, by Tillie Jon.—SOLD!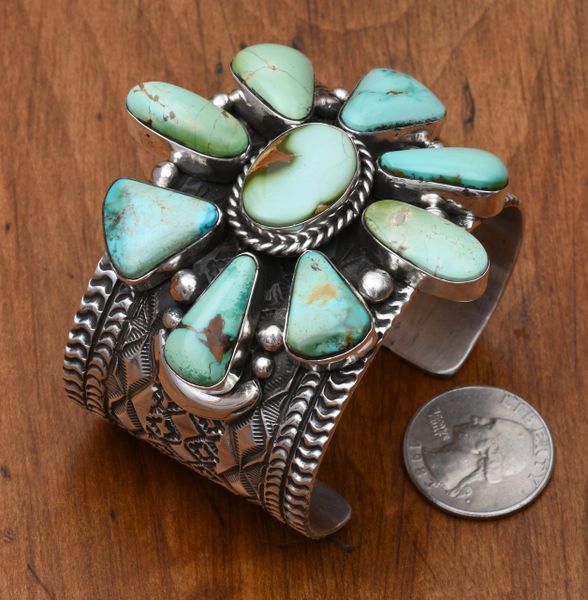 Description
SOLD!  How's this for great Native American jewelry.  A bit different than what is available in most tourist curios shops, don't you think?  This piece "pops."  Tillie picked-out some Royston stones with a luring greenish tone; shaped them, and placed them in clockwork fashion atop some very, very exquisite hand-stamped silverwork.  This cuff is priced a little lower than its actual value because the Drifter traded well, again.  Weight is 137.2 grams it you like to do all that math, or, it is simply 4.85-ounces—over a quarter-of-a-pound!  The silver cuff itself is 1.75-inches wide, and the width across the top where the stones are is about 2.5-inches.  It will fit if you are fortunate to have a total wrist circumference of 6 and 5/8's inches—though the Drifter can adjust it in or out by at least an eighth inch.  Hallmarked "T.JON."  VERY ATTRACTIVE!