We're back! Now posting "Latest Acquisitions"
Navajo Sterling cuff with extensive repousse' stamping; premium Royston turquoise and 6.5-inch wrist circumference (bottom cuff in pic).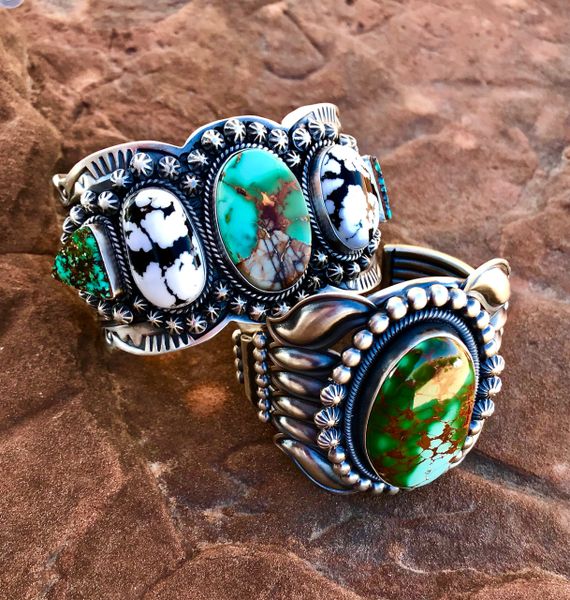 Description
If you are shopping on this site, chances are you're looking for something of the highest quality that is both special and different. This cuff exemplifies all that.  Maintaining a high bar is a priority with the Drifter, as evident by twice winning the "Best Display" award at the New Mexico State Fair and "Best of Show" award at an all-Native-American-judged pow wow.  This cuff has perfect repousse' stamping.  Repousse" is the art of hammering-out a relief from the reverse side.  Thus, the silversmith creates a hole in his or her workbench, and while holding the Sterling silver above that hole, a design is stamped into the silver.  It is then flipped over—revealing the hammered design as a creative "bulge" in the silver.  A lot can go wrong in the process.  Anyway, this piece is museum-quality outstanding.  The elegance of the silversmithing is complimented by beautiful Royston, Nevada turquoise.  It is 2.5-inches across at the top and weighs 138 grams, or a whopping 4.88-ounces (that's right, no gimpy lightweight touristy stuff here!).  Wrist circumference—including the "gap" in the cuff —is 6.5-inches, though it can be adjusted PRIOR to shipping by a quarter-inch either way.  It is hallmarked, as usual, by a well-known Navajo artist.  Call for further details.  We no longer identify the maker on some of our offerings on the internet (which is a shame—but times have changed!).  This listing is for the bottom cuff in the pic only.  See additional pics of the listed cuff included with the posting.  Always free Priority shipping within the U.S.  Photo taken on the New Mexico portion of the Navajo Reservation at Red Rocks—site of the annual "Ceremonial."