We're back! Now posting "Latest Acquisitions"
Navajo Sterling eight-stone Naja with ribbon/boulder turquoise paired with dead-pawn 32-inch barrel-bead Navajo pearls (each can be purchased separately).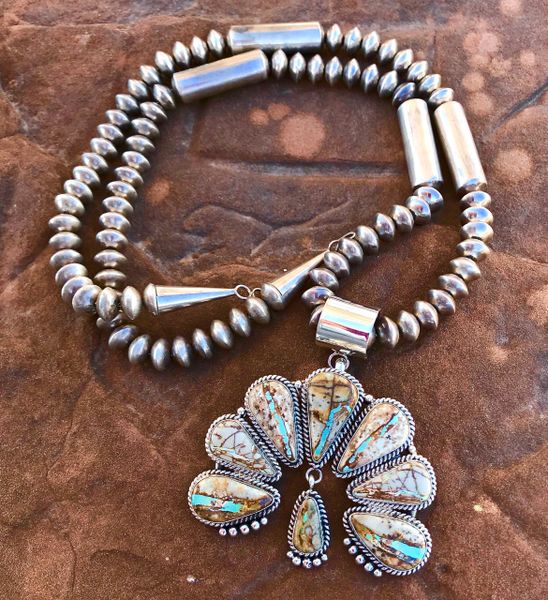 Description
Actually, this naja can be purchased three ways:  1) the set as posted; 2) naja with 24-inch, 8mm burnished Navajo pearls (pic of those pearls with earlier naja posted here): $665; 3) naja with 18-inch solid Sterling box chains: $525.  The 32-inch barrel-bead (the Dine' call these "horse pill beads") pearls can be purchased separately for $500.  Just call the Drifter at 817 456 5600 with your choice.  The naja is sharp—real sharp.  Those eight teardrop-shaped ribbon turquoise stones are perfect.  It is three-inches across and 2.5-inches tall—not counting the bale.  Hallmarked.  The "horse pill" necklace is older and is thus made with thicker-gauge Sterling.  A 32-inch one at this price is a bargain.  Photo taken during recent buying trip on Navajo Reservation at Red Rocks.  Always free Priority shipping within the U.S.