We're back! Now posting "Latest Acquisitions"
Navajo Sterling seven-pendant lariat necklace and matching earrings with No. 8 Mine turquoise, by Gilbert Tom.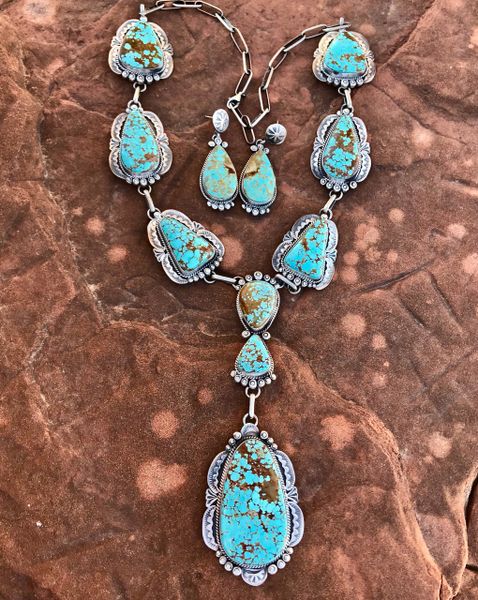 Description
Here is another habit-forming piece from the Drifter's bag.  That popular No. 8 is great.  And, it is a great value as well.  The lariat pendant necklace alone is worth more than the price here, plus a pair of beautiful matching No. 8 Mine earrings is included in the deal.  The stones here are slightly larger than the normal lariat, giving it a more substantial appearance.   The necklace weighs 177.3 grams, or 6.25 ounces, and hangs about 16.5-inches from the back of the neck.  The impressive bottom pendant is 2.75-inches long and 1 and 7/8th's-inches across at the widest point.  Each earring weighs 11.6 grams, or four-tenth's-ounces, and is 2.5-inches long by almost .75-inches across at the widest point.  Hallmarked.  Photo taken at Red Rocks on the New Mexico portion of the Navajo Reservation.  Always free Priority shipping within the U.S.