On the road now; new finds will post this fall!
Nineteen-stone Navajo cluster cuff masterpiece with No. 8 mine turquoise by Leon Martinez.—SOLD!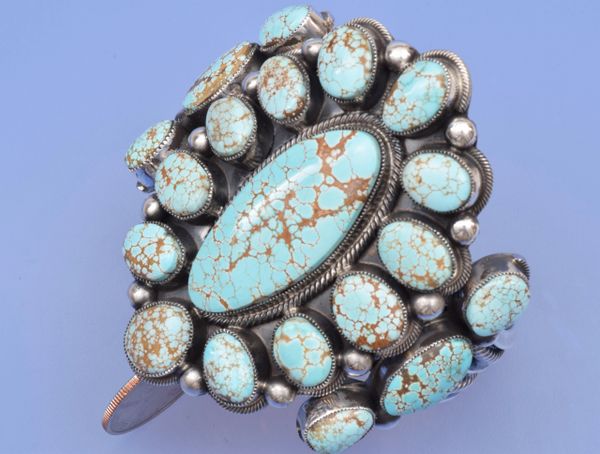 Description
SOLD!  Move over little dog, the big dog is movin' in.  It's all down hill from here—just don't know how to top this.  The Drifter went on a quest lately for quality No. 8 mine pieces; willing to pay the price for the best.  What do you think?  No. 8 mine turquoise is one of the most sought-after types of turquoise.  The mine in Nevada closed in 1976 when a gold mining operation bought the property.  The owner stockpiled a large amount at closing, but that is thinning-out (and current prices for the No. 8 reflect its scarcity) and when it is gone there will be no more.  Its pale blue-green color, often with distinct spider-webbing, sets it apart. The masterpiece above has 19 perfect pieces of No. 8—all laced with great copper matrix. The oval centerpiece really makes a statement.  The lucky person who gets this will need to have a wrist circumference between 6.25 and 6.75.  That's because it's a 6.5-inch circumference now and it can easily be adjusted a quarter-inch either way.  Note that all cuff measurements on this site are wrist circumference, which includes the "gap" in the cuff.  Gap spacing varies with the piece and with the artist, so the only accurate method is to measure the wrist at the wrist bone.  That measurement will correspond to the sizing used here.  It weighs 4.7 ounces and is hallmarked "Leon M.T.Z."  Leon appears to be incapable of making a mediocre cuff.  Note the price on the back in the 3rd pic.  That was the price being asked prior to the Drifter acquiring it.  Priceless.