On the road now; new finds will post this fall!
Original, signed Tommy Singer Sterling and gold-fill pendant with Sleeping Beauty turquoise.—SOLD!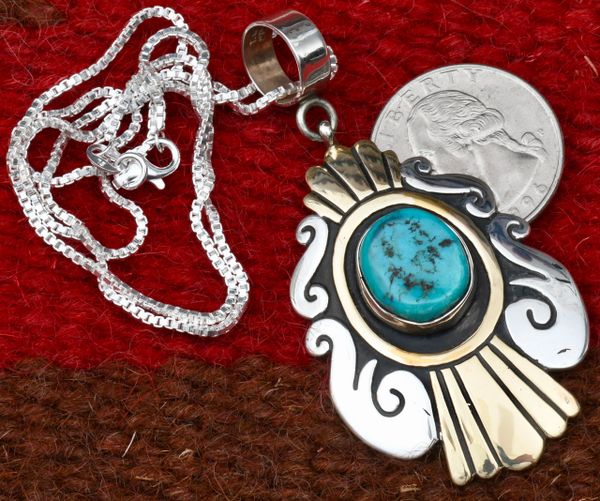 Description
SOLD!   The Drifter acquired this, and about 75 other pieces, from Tommy Singer at his home on March 26th, 2014 (see 2nd pic)—a little more than two months before Mr. Singer's untimely passing.  We only let go of one occasionally.  If you are a student of Navajo Jewelry, you already know of the legendary status of Tommy Singer.  He brought Navajo silver and turquoise jewelry into the limelight in the 60's and 70's.  The Drifter chooses to wear Tommy Singer pieces exclusively—partly out of homage to his friend, and partly because they are still the best.   His widow and daughter and son-in-law currently use Mr. Singer's tools and designs to continue Mr. Singer's legacy.  Those are hallmarked, "T&R Singer," and they are fine pieces. The pendant offered here, however, is an original Tommy Singer piece made by him prior to his passing, and the hallmark is "T. Singer."  Mr. Singer was a detailist, and here he even put his hallmark on the inside of the bale! It is just shy of two-inches long, and the width is 1.25-inches.  It ships with an 18-inch solid Sterling silver chain (not made by Mr. Singer).