We're back! Now posting "Latest Acquisitions"
Ornate 6.25-wrist circumference five-stone Navajo Sterling scalloped-edge cuff, with Royston, Nevada turquoise and white buffalo (top cuff in pic).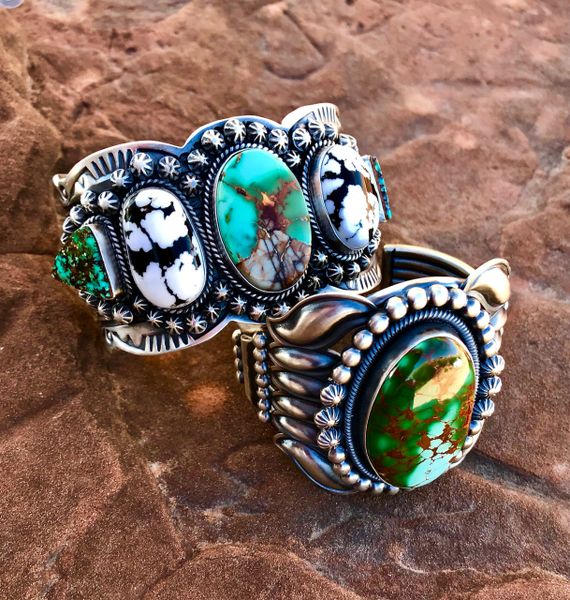 Description
The Drifter has been working with the maker of this cuff for years.  This wide, scalloped, massive look with large eye-popping stones is now popping-up in other places on the web—and for good reason.  It is definitely a "statement" piece.  All the stones here are hand-picked and premium-grade.  As specified above, it will fit a person with a total wrist circumference (including the "gap" in the cuff) of 6.25-inches.  Because of the placement of the stones, it is ill-advised to attempt to shape this cuff into a different size, due to possibly disturbing the integrity of the settings.  Weight is 142.6 grams, or five-ounces.   It is hallmarked by a well-known Navajo master silversmith.  Feel free to call for further details (we no longer identify the maker on some of our offerings on the internet).  This listing is for the top-most cuff in the pic only.  Photo taken on the New Mexico portion of the Navajo Reservation at Red Rocks—site of the annual "Ceremonial."  Always free Priority shipping within the U.S.