We're on pg. 31 of "COWBOYS & INDIANS" this month.
Signed, original Tommy Singer belt buckle with Sleeping Beauty turquoise (made by Mr. Singer prior to his passing).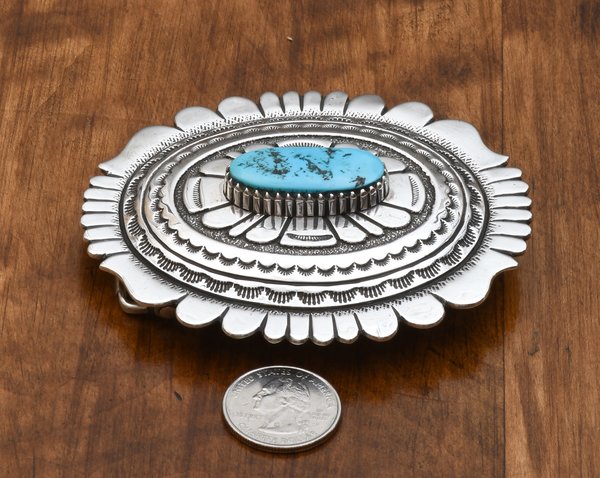 Description
The Drifter has been keeping this aside to give to his son after he got out of the service. But father and son have different tastes. Imagine that. The Drifter wears a Tommy Singer buckle that is nearing a half-century old. The Drifter wears a likewise older Tommy Singer cuff and a Tommy Singer watchband. Keep in mind there are postings on the web that advertise "Tommy Singer" pieces, but read the fine print and it turns-out to be a "T&R Singer." T&R Singer jewelry is made by Mr. Singer's widow, Rosita, and some family members. They use Tommy's old tools and patterns and they make a fine product. But we are partial to the original Tommy Singer pieces made while he was alive. He was killed in a motorcycle accident on May 31st, 2014. The Drifter last saw Mr. Singer two months earlier when he sat in the Singer kitchen and had coffee with Tommy and Rose. We all miss Tommy Singer. The buckle here, signed by Mr. Singer himself, is 3.75-inches across and 3-inches tall. It weighs 3.38-ounces and has a very nice rock in the middle which just happens to come from the famous Sleeping Beauty mine in Arizona, which closed in 2012. This is a collector item. Maybe the Drifter will just keep it if it doesn't sell soon.