Latest Offerings Appear First
Size 7.75 dead-pawn Zuni-style cluster ring with 18 pristine Sleeping Beauty turquoise stones.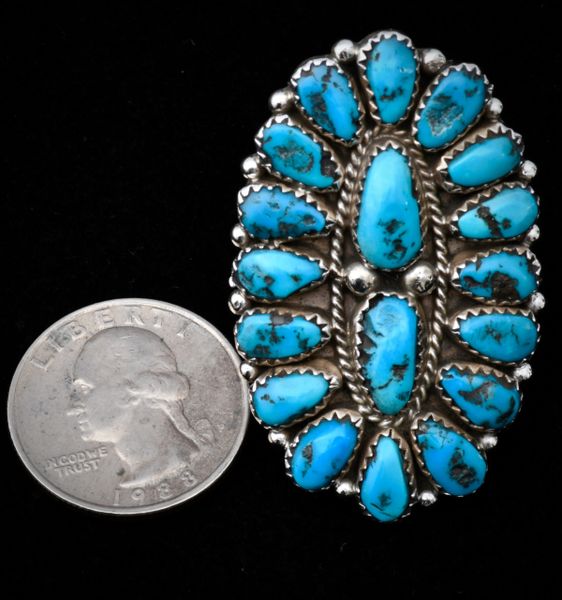 Description
Okay folks, this is what "real," not "block (compressed)" turquoise looks like.  These Zuni-type cluster rings have always been popular and there are lots of them at shows; on the internet and in shops.  However, they are mostly done with "block" turquoise.  Block turquoise is made from small pieces of turquoise which has been dumped into a machine—which pulverizes the turquoise into a fine powder and then adds a resin binder, and then applies great pressure—creating a square "block."  It's kinda real.  Well, maybe.  It doesn't cut the mustard with the Drifter and you won't see it here.  The trophy ring pictured here is the real deal.  Notice the iron ore permeating each stone. Notice the uneven surfaces on the stone.  Put it next to a "block turquoise" piece (we don't have one with which to compare!) and there is really no comparison.  When we see people wearing those block turquoise pieces we just hold our tongue and silently pity them.  This ring is almost two-inches long, and 2.25-inches at the widest point.  Weight is 15.5-grams, or .55-ounces.  It was likely made before the Sleeping Beauty mine was forced to close in 2012, and the current cost of the stones alone exceeds the price posted here. Hallmarked.  Always free Priority shipping within the U.S.