On the road now; new finds will post this fall!
Slightly smaller size Navajo Sterling squash blossom necklace with Kingman, Arizona turquoise, by Augustine Largo.—SOLD!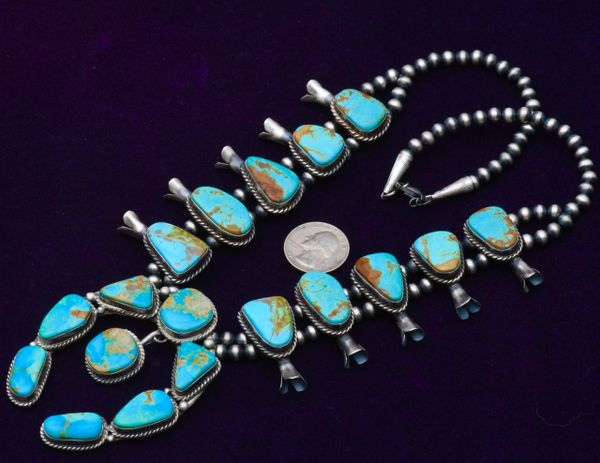 Description
SOLD!  Okay people, you ask and the Drifter delivers.  Here is a slightly—emphasis on "slightly"—smaller well-made, authentic Navajo squash blossom necklace fashioned by a known artist using quality American turquoise.  None of that miniature, thin-gauge tourist junk of questionable origin here!   And, it is very, very affordable!!  It is 22.5-inches end-to-end, not counting the naja.  Counting the naja, it hangs approximately 12 inches down from the back of the neck.  The silver is finished in an old-style patina, and has good gauge thickness of the Sterling silver—making it feel quite substantial without being too heavy.  The Kingman turquoise was chosen so that the copper matrix within the stone somewhat mirrors that of stones on both sides of the necklace.  Hallmarked "Auggie L,"  Which is Augustine's new hallmark stamp.  Quite a bargain and, as always, High Plains Jewelry provides free Priority shipping.