Latest Offerings Appear First
Small (5 and 7/8th's circumference) wrist-size Sterling double-overlay cuff, by Chimney Butte.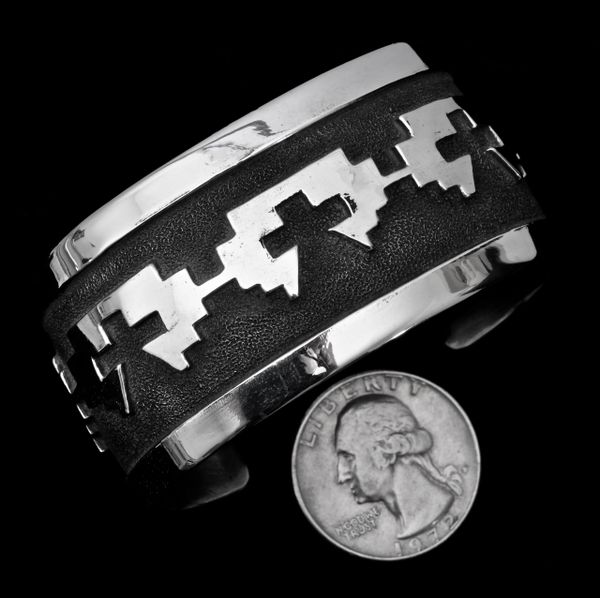 Description
"Chimney Butte" is a real person and, indeed, a real character (see pics below).  He is a truly dedicated artist/silversmith, and a person guided by spiritualist principles.  Chimney Butte is big as a butte, and he learned his chops early in his career when he lived on the Navajo rez near Dilkon, Arizona from the late legend, Tommy Singer.  He claims half-Comanche/half-Anglo lineage, and is married into the Santa Domingo tribe (just south of Santa Fe).  This guy is larger than life and belongs in a chapter of the Drifter's book.  His dedicated following in the movie industry includes castmenbers and the director from the "Hateful Eight" movie; Brooke Shields, and others.  Here, he created a simple but elegant double-overlay Sterling cuff with both polished and black anodized Sterling.  It will fit a lady with a tiny wrist all the way from about 5.5 to 6-inch wrist circumference.  We prefer to shape it to the exact measurement prior  to shipping.  Width is 1.25-inches throughout.  Weight is a nice 68.4-grams, or 2.41-ounces.  It's NOT thin and flimsy. Hallmarked "Chimney Butte."  Always complimentary shipping within the U.S.