Latest Offerings Appear First
Smaller-size Navajo Sterling 19-inch "bar" necklace made of compressed turquoise, spiney-oyster shell and bronze, by Donovan Skeets.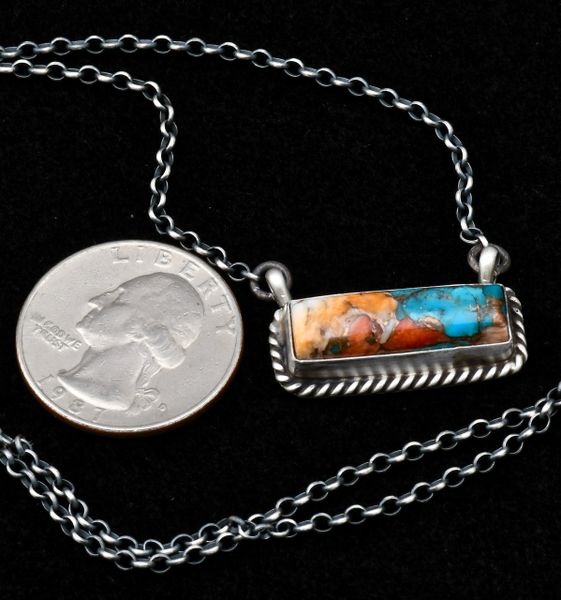 Description
We carry this "stone" in earrings, pendants, rings and two sizes of bar necklaces (this is the smaller size).  We currently have a few dozen of these.   Frankly, they sort or all look alike.  This 19-inch (with burnished silver Sterling chain) bar necklace is one-inch wide and about a half-inch tall.  The Navajo buy this material in a compressed "brick" about the size of a house brick.  A whole brick is costly.  One of the well-known turquoise mines apparently takes pieces of turquoise, spiney oyster shell and bronze and puts the mixture into a machine that applies huge amounts of pressure that turns these elements into a hardened brick.  Skeptical at first, the Drifter took a few dozen earrings made from the stuff to his Colorado venue this past summer and they all sold in a few days.  We call it what the mine owners call it—turquoise, spiney and bronze mix—and not a fancy coffee flavor or a type of dishware.   Hallmarked "DS," which is Donovan Skeets.  He and Augustine Largo (hallmarked "AL." are the Navajo makers of these same barrel necklaces you will see elsewhere on the web at a substantially higher price!  The Drifter, however, personally chooses the stones here prior to the artist setting them in the pendant. And, as always, free priority shipping.