Latest Offerings Appear First
Sterling Navajo squash blossom and matching earrings made with burnished patina Navajo pearls and Kingman turquoise, by Augustine Largo.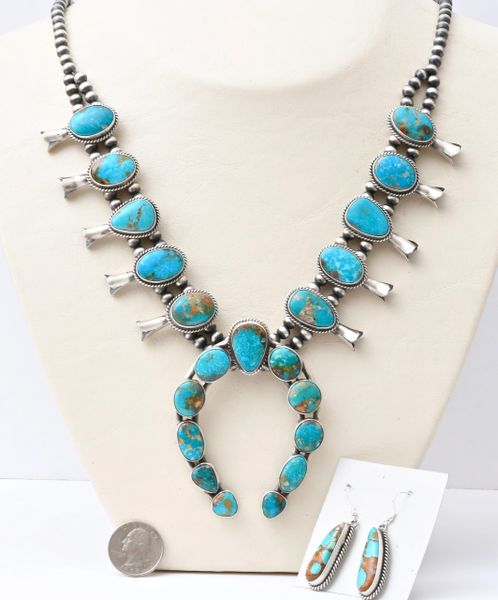 Description
This alluring piece of wearable Navajo Art is done in the "old-style" burnished patina which is popular now.  Of course you could just buy an old one (for thousands more) and attain that same patina.  This baby is sharp.  What did you expect!? Check out those beautiful American turquoise stones (from the Kingman, Arizona Mine).  The squash blossom necklace itself is 25-inches end-to-end, but that doesn't take into account the length of the naja as it pertains to total length from the back of the neck.  It will hang about 13-inches from the back of one's neck (depending on neck size, of course) to the bottom of the naja when worn.  And no, it is NOT a horseshoe.  It is slightly smaller in scale than a standard, traditional squash, but much bigger that the toy, er, miniature squashes you see around.  We don't buy or sell those.  And, it's not as big as those ship-anchor size ones you see in the magazines lately.  The earrings included are nice and contribute to this being quite a value.  Weight of the squash necklace is 155-grams, or 5.47-ounces.  No thin-gauge touristy junk here!  As you may have noticed if you've spent much time perusing our website, the Drifter is old-school and all about authenticity and tradition.  Hallmarked "AL."  Always free Priority shipping within the U.S.