We're back! Now posting "Latest Acquisitions"
Sterling Navajo squash-blossom necklace with hand-picked, high-matrix white buffalo, and matching two-piece earrings.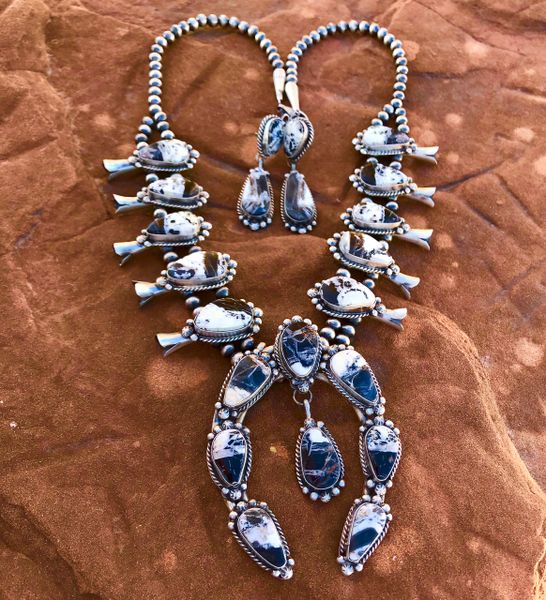 Description
Another example of the Drifter's discerning search for quality and uniqueness.  Due to its popularity there is an increasing presence of white buffalo in shops and on the internet.  Also due to the popularity of white buffalo there is an increasing presence of howlite in shops and on the internet—often being presented as white buffalo.  Both are white, but a world of difference otherwise.  The Drifter keeps a couple of pieces of howlite around—to show clients what NOT to buy and how not to get ripped-off.  Howlite is worthless in our opinion and we do not buy or sell anything our containing howlite.  This squash is the REAL DEAL.  All of our offerings are the real deal.  The white buffalo stones here have similar, high matrix.  Higher matrix stones are just more interesting.  Slightly smaller in scale than the big, long squashes that are the current trend, this one hangs about 14-inches from the back of the neck and weighs 180 grams (or 6.35-ounces).  And then there are those earrings!  Each two-piece earring weighs 10.2 grams, or .35-ounces.  Both the squash and the earrings are hallmarked by one of the Drifter's most trusted Navajo silversmiths.  Call for further details, as we no longer identify the maker on some of our offerings on the internet (which is a shame—but times have changed!).  Photo taken on the New Mexico portion of the Navajo Reservation at Red Rocks—site of the annual "Ceremonial."  Always free Priority shipping within the U.S.