Latest Offerings Appear First
T&R Singer bolo with thick-gauge Sterling; hand-braided heavy leather lanyard; custom tips and spacers and Sleeping Beauty turquoise.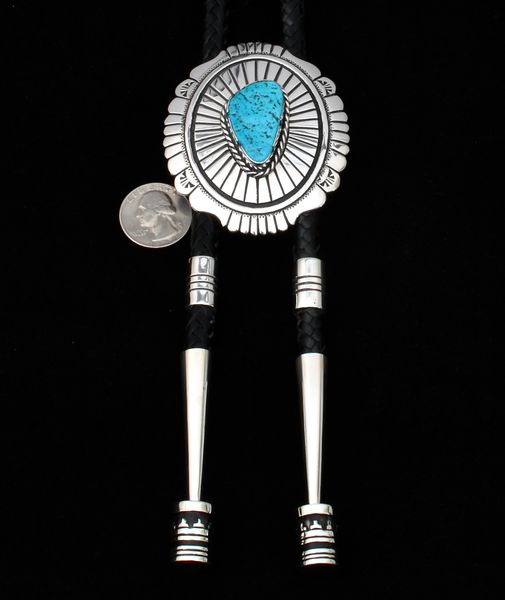 Description
There are drug store cowboy bolo ties, and there are REAL bolo ties.  This is the latter.  And it comes from thoroughbred lineage.  Tommy Singer's widow, his daughter and his son-and-law use Mr. Singer's tools, dies and designs to carry-on his tradition of excellence.  It is signed T&R Singer.  Shortly before his passing, Tommy had shown the "T&R Singer" hallmark to the Drifter.  The new hallmark, according to Tommy, would signify the inclusion of Rosita in his brand.  Now it signifies all that and more. It signifies an adherence to tradition, excellence and class.  Here is a bolo that for all practical purposes is identical to an original Tommy Singer bolo.  It doesn't have a cheap, touristy "flipper" stay on the back.  It is made old-school the Dine' way, with Sterling sliders that keep each lanyard strand intact and in place—without pinching or wearing-out the leather.  Speaking of, the lanyard is real leather—not look-alike naugahyde like those on drug store cowboy bolos..  The silver is thick gauge and meticulously hand-stamped.  The tips are a work of art themselves, and of course, not store bought, but rather, custom made.  Plus it has those Sterling silver sliders in-between the tips and the bolo itself.  It will hang about 21-inches down from the back of an average neck.  For those who think the price is high, then go out and throw a couple hundred into a tourist curious piece.  The tips alone here are worth that much.  Don't embarrass yourself.  A gentleman deserves a high quality bolo.  This bolo is very much that. Always complimentary Priority shipping within the U.S.