Latest Offerings Appear First
Trophy Navajo Sterling squash blossom necklace with burnished Navajo pearls; ribbon (boulder) turquoise and matching two-piece earrings.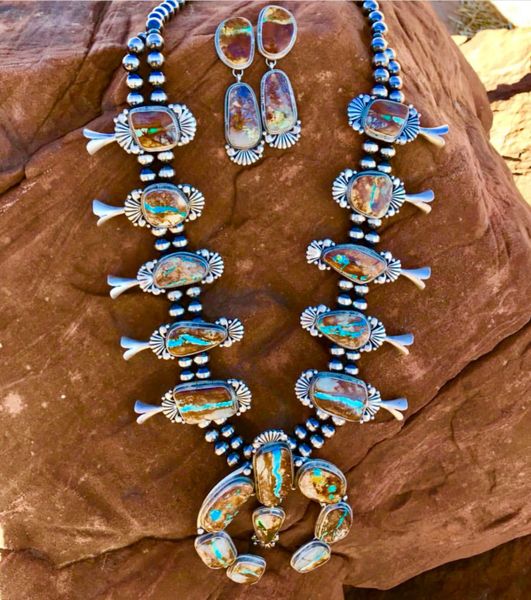 Description
 The Drifter has bought, sold or traded a lot of squash blossoms in the last 40-plus years and none more beautiful than this.  The silversmithing; the stones with distinctive ribbons of turquoise in each, and the perfectly matched earrings make this a bonafide trophy worthy of anyone's collection.  She's big and beautiful, weighing 498 grams, or 17.58 ounces, with the bottom of the naja hanging about 20-inches from the back of the neck.  The burnished Sterling silver Navajo-pearl beads are noticeably larger than used in most squash blossoms and really add to the striking appearance of this squash.  Each earring weighs nine-tenths of-an-ounce and is a little over three-inches long and 7/8th's-inches at the widest point.  Hallmarked by a respected, well-known Navajo jewelry maker from the New Mexico portion of the Navajo reservation.  Serious buyers are welcome to call for further details (we no longer put the maker's name on some of our offerings on the internet).   Photo taken on Navajo Reservation at Red Rocks where the annual Ceremonial is held.