We're back! Now posting "Latest Acquisitions"
Vintage, signed, Tommy Singer gold-fill and Sterling elaborate squash-blossom-type neckpiece.—SOLD!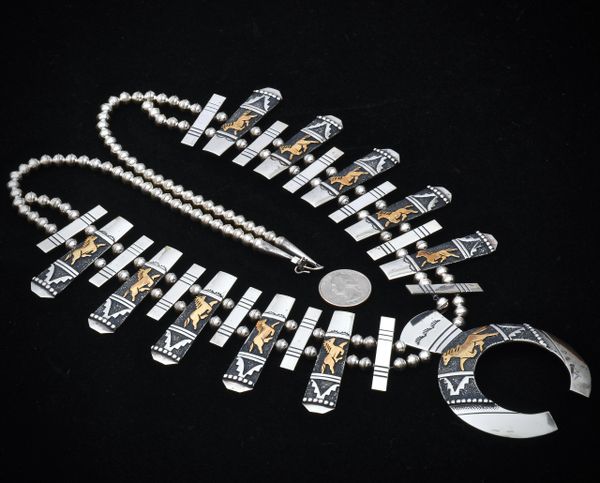 Description
SOLD!  This is not just an elegant necklace, it is a piece of history.  As you are probably aware, Tommy Singer was instrumental in Native American jewelry becoming popular in the 60's and 70's.  He was THE MAN.  Now he is The Legend.  Mr. Singer passed to the other side on May 31st, 2014.  He was a friend to the Drifter and greatly influenced him.  He set the bar high.  A more in-depth discussion of the man would encompass a half-century.  The issue at hand, however, is this beautiful example of his innovative artistry.  The use of gold and Sterling silver; the double-overlay technique employed, and his older hallmark utilizing his name—void of initials, and stamped in the old Gothic font.  The Drifter has worn this at many, many shows.  But eventually the old stringing weakened and broke, and it got locked-away for awhile.  When it came time to re-string, we noticed that some of the beads had seen their day as well.  So it was recently re-strung with new, thicker wire and—rather than replacing some beads with newer ones that didn't quite match perfectly—new high-quality premier solid-Sterling beads throughout.  As you can see from the pic it turned-out beautifully.  It is 32.5-inches end-to-end, and when worn it will hang about 17-inches from the back of the neck, including the naja.  The horses in gold-fill are wild Mustangs that still run free on the Navajo Rez.  Hallmarked "THOMAS SINGER,"   Some of the pics included in this post are Tommy and his wife, Rosita in the family kitchen with the Drifter; Tommy and his black and silver (coincidence?) Camaro, and the Singer family hogan where Tommy was born.  Enjoy.