Latest Offerings Appear First
24-inch, 8mm burnished Sterling bead necklace popularly known as "Navajo Pearls." Temporarily out of stock!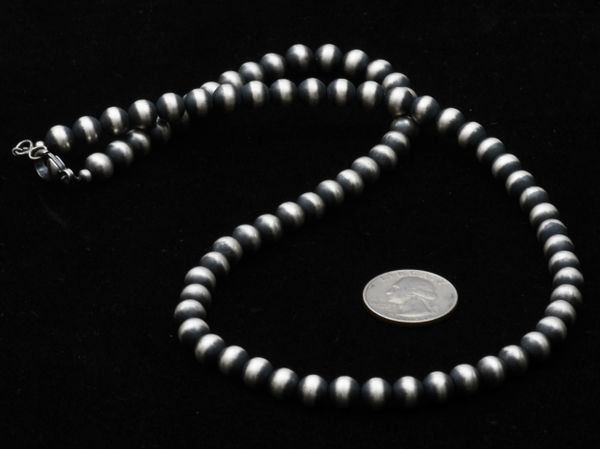 Description
TEMPORARILY OUT OF STOCK.  This is the most popular size (in both diameter and length) of these silver bead necklaces.  They are popularly referred to as "Navajo Pearls."  The Drifter questions whether the Dine' (Navajo) now doing silversmithing have the capacity to produce the sheer quantity of these in circulation now.  But we do offer them, hopefully at a little less than one sees elsewhere, but we are reluctant to certify them as actual Navajo made.  Trust is paramount.  The set here is, indeed though, very nice.  It has decent weight and superb craftsmanship.  We poured-through thousands of these beaded necklaces before selecting this one to put on some of the pendants offered here.  When you buy this with any of the pendants we offer, you save $25 over the individual-priced one you see here.   Of course, USPS Priority shipping (usually 2 days from time shipped) is always included with everything we sell.