Latest Offerings Appear First
Navajo 18-inch Sterling "bar" necklace made of compressed turquoise, spiney oyster shell and bronze, by Donovan Skeets.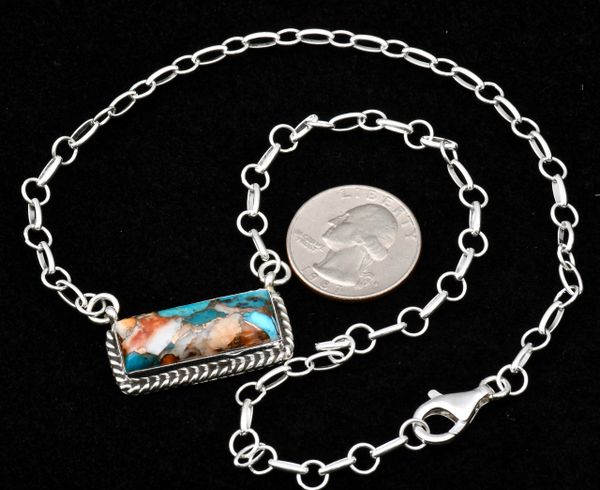 Description
We carry this "stone" in earrings, pendants, rings and two sizes of bar necklaces.  We currently have a few dozen of these.  Frankly, look alike, but we'll post a couple more of them just for grins.  The reason these 18-inch (polished Sterling chain), 1.5-inch wide and 5/8th's-inch tall bar necklaces haven't been posted on this site prior is because they sell too quick to photo and post them.  The Navajo buy this material in a compressed "brick" about the size of a house brick.  One of the well-known turquoise mines apparently takes pieces of turquoise, spiney oyster shell and bronze and puts the mixture into a machine that applies huge amounts of pressure which turns these elements into a hardened brick.   Since then, we've gone through hundreds of pieces made from this strange mixture.  We call it what the mine owners call it—turquoise, spiney and bronze mix—and not a coffee flavor or type of dishware. Hallmarked "DS," which is Donovan Skeets.  Always free priority shipping.