We're back! Now posting "Latest Acquisitions"
Medium-size Navajo Sterling bar necklace(s) with hand-picked White Buffalo stones (price is per each).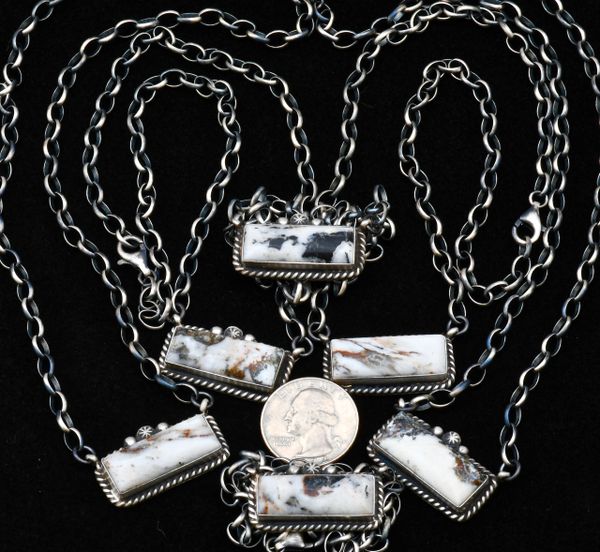 Description
These medium-size (1.25-inch long by half-inch tall) bar necklaces offer a lot more "pop" than the smaller-sized bar necklaces that are common now.  The stones are larger; the settings are larger and nicer, and the burnished Sterling chains are much more substantial.  We charge a bit more for the ones with hand-picked White Buffalo, because the hand-picked White Buffalo costs more.  The Drifter prefers an attractive matrix in every stone he buys.  Thus, you won't see any monolithic, boring stones here.  These all have personality.  They are 18-to-18.5-inches end-to-end.  They will hang approximately 6-to-8-inches from the back of the neck.  Total weight is 18.1 grams, or .645-ounces.  Keep in mind the price above is for each necklace—not for all pictured. Simply call or e-mail with the one(s) you prefer prior to shipping.  As of 11/20/'19 we have 33 of these in stock.  When the ones pictured sell, others will post.  Hallmarked "ROBERT SHAKEY."  Always free Priority shipping within the U.S.